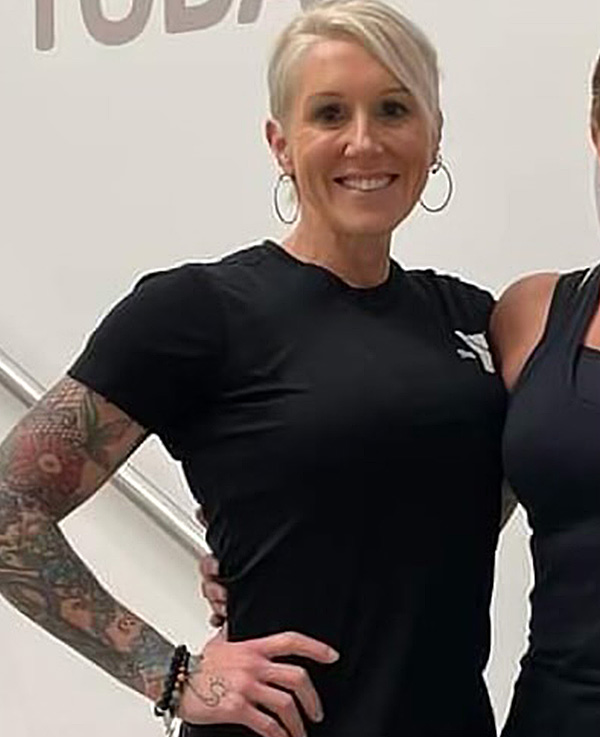 CLAUDIA HARNAR
Certified Personal Trainer
How long have you been training?
I have been training for over 17 years. I started out in 2006 with training friends and
family and officially took my leap into training clients professionally, in 2007.
What made you want to get into fitness coaching?
Having been a competitive athlete my entire life, I have always enjoyed movement and pushing my body and myself to become better and stronger. When I was in my 20s, I suffered from an eating disorder and depression. I was able to overcome this chapter in my life through my passion for fitness. I used my daily outings to the gym to get me focused and through exercise and fitness I was able to turn the negative energy into positive momentum. As I was starting to embrace a healthier version of myself, I decided to use my story to help others become stronger and healthier. I became nationally certified through ACSM and have had the honor of working with and teaching countless clients and students over the past 17 years.
What is a success or highlight in your fitness career that you're particularly proud of?
I don't think there is just one highlight that comes to my mind. Every client has a unique story and every client has taught me something I didn't know before. But 3 stories instantly come to my mind, 3 stories so different in their own ways…
D was a regular participant in group fitness classes I was teaching at the time. Back
then as a college student, and well into his years as a high school teacher. After I
moved from TN to TX, he messaged me on several occasions that he could hear my voice in his head while working out, challenging him to push through. D left his teaching career 2 years ago and is now a Personal Trainer and Training Manager at his local gym.
M was a middle-aged female, wheelchair-bound due to a tragic car accident involving a semi-truck. She had very minimal function of her extremities and needed a 24hr caregiver around the clock. M met with me 2-3 times per week and years after her accident, was able to walk (slowly and with assistance), as well as hold a 30 sec plank on her forearms. I will never forget the joy on her face!!!
P was an overweight client of mine (387lbs), who I had met 2 years prior as a
participant in one of my Aqua classes. She decided to try Personal Training, and after 6 months of training, she signed up for a national weight loss challenge in early 2019. Over a period of 9 months, P was able to shed 87lbs and won the challenge. Seeing her change both physically and mentally as she continued her weight loss journey changed her life and mine too.
What are some things that you like to do in your spare time?
I really enjoy gardening and cultivating new plants for indoor and outdoor enjoyment
(my lanai looks like a jungle…) In my free time, I like to spend as much time outside as possible. Besides going to the beach and hiking/ running to fill up my mental tank, I also really enjoy creating DIY home projects and decorating.
If you had one piece of advice for a client who is transitioning to a new trainer and possibly deviating from their comfort levels, what would it be?
Change is uncomfortable, but when we allow ourselves to be challenged in new ways (mentally, physically, and spiritually) we allow ourselves to grow. Change doesn't happen overnight, change takes time. Change isn't gradual, or linear. It can be bumpy and stagnant at times. Be patient, be consistent, believe in your abilities, and enjoy the ride.
TAKE CONTROL OF YOUR HEALTH
We'd love to invite you in for a FREE, no pressure and no obligation consultation. You'll see the gym, meet the trainer and they'll take you through a light workout to see if it's a good fit for you!